I wonder if a site or a blog could be started (if it doesn't already exist) where pictures of scruffy buildings are posted; and people design renovations from the pictures.
I live south of Knoxville Tennessee. On Chapman Highway, there is an old building, last used for retail of skates, darts, and other recreational equipment. According to the new owner, years ago, it was a slot car race center. Personally, I prefer different architectural design; namely, the roofline. What I've done is to try and hide that feature, with an innovative paint scheme. This scheme would cost more than one color, but it would be paint only, not requiring remodeling.
To make the blue and grey design here, I used raster editing software, and vector editing software; both free. Usually, free software is something like what you get with your new printer, but these two are much more serious than that. I won't go into the difference between the two types of files, but will tell what I did with them.
I used the free raster editing software called Gimp to scale and clean up the picture from my camera. Then I used the vector editing software called Inkscape, to make the blue and grey ares overlaying the picture.
What I'm pleased to pass along is that I finally made myself search and learn a method for copying and moving one part of a picture to another part. I used it to make squares of grass to block out the cardboard or sheet metal trash that was in the picture. I also used it to duplicate a section of hill, trees, and sky from one side of the building to the other. The first picture is how the building looked a few days ago.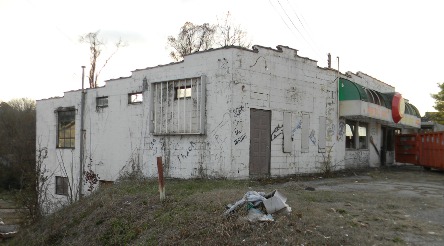 On the hillside to the left of the trash, I used the rectangle select tool, to select a square section of grass, about 1/5th the size of the trash heap. then, with the cursor still inside the selct box, I held down the shift and alt keys at the same time, while holding down the left mouse button, and dragging the square of grass over the trash. I repeated the process until all the trash was covered. Very nice effect, and very easy to do. I used the eyedrop tool to select the white-ish sky color, then used the paint brush tool to paint out the shed next to the main building, along with the overhanging part of the awning. Then I used the first method to duplicate and move the hill, trees, and sky from the left side of the building to the right. A little more paint brush work, and the raster editing was finished.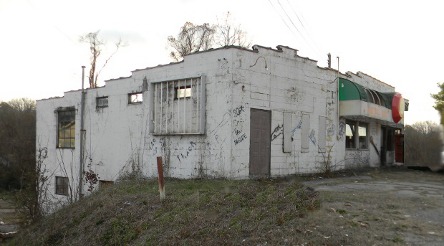 Next, I imported the picture into Inkscape, where I added the paint scheme. Of course the colors could be changed to earth tones, greens, or whatever suited the owner. It was a fun project; one you might want to try yourself.